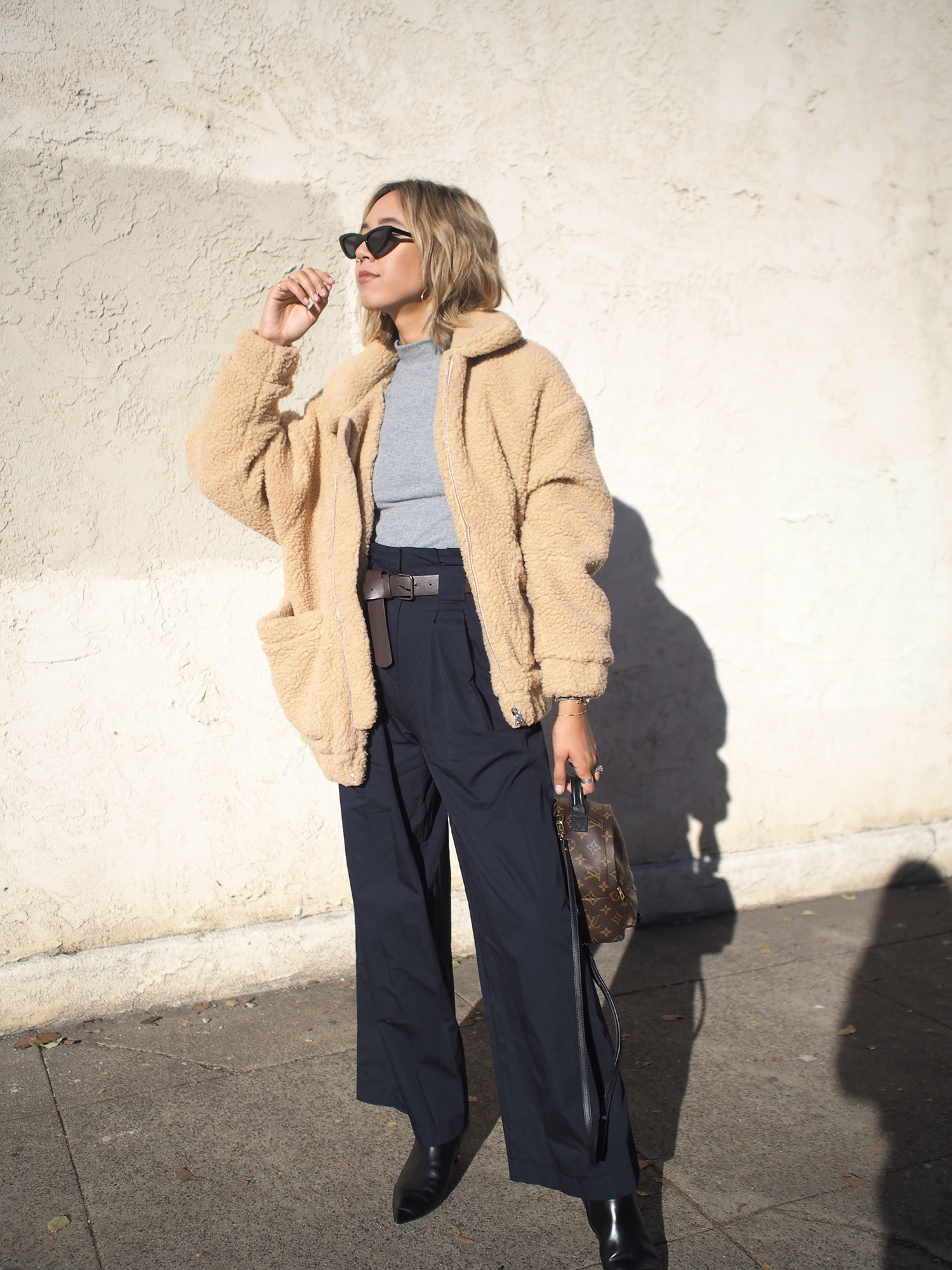 Navy Paper Bag Waist Wide Leg Trousers – River Island | Grey Brushed Ribbed High Neck Top – River Island | The Momento Boot – M Gemi | Pixie Teddy Coat – I.AM.GIA |

Quick outfit recap post today with the weather getting down to the chilly 40s in the evenings, never thought it would actually come to this! I suppose it's a good thing though that we are finally getting to experience "winter" here in Southern California. There has been so much going on in life right now it's kind of funny how things go. To update you all, we are currently searching for our first home to purchase! My husband and I have been living out of apartments and condos for the past four years so for us we are thrilled to finally feel settled in one place for awhile. With that being said, buying a home is not only time consuming but STRESSFUL. I really can't wait to find a place and get that "accepted" response from the seller. On top of that, January usually brings a bit of a lull in regards of projects which has been great for me. It gave me a lot of time to start thinking up some cool blog posts and getting myself inspired for the New Year. Sometimes when my calendar is so jam packed I forget to slow down and live more in the moment, which in turn, creates better content.
After these lull's though I really do enjoy getting back into a fast paced setting and with February quickly approaching I'm looking forward to sharing a ton more with you guys and gals! One of my biggest things will be sharing our home buying process on top of any kind of renovations etc that we might do on the new place. Secondly I want to focus on a few other lifestyle pieces like skincare, haircare, and even tips on grocery shopping and easy recipes!
Ok back to the outfit, River Island get's it yet again with these navy paper bag waist trousers. They fit perfectly high waisted and are actually not long on me so I didn't have to wear a crazy heeled boot to keep the pants from dragging (big win for me). I paired the trousers with a simple grey turtleneck and super oversized teddy bear coat. I tried to balance out the trousers with a more fitted top but decided to just go for an overall oversized look by throwing on the jacket. Besides, it was freezing this morning so I couldn't help myself with wearing it!