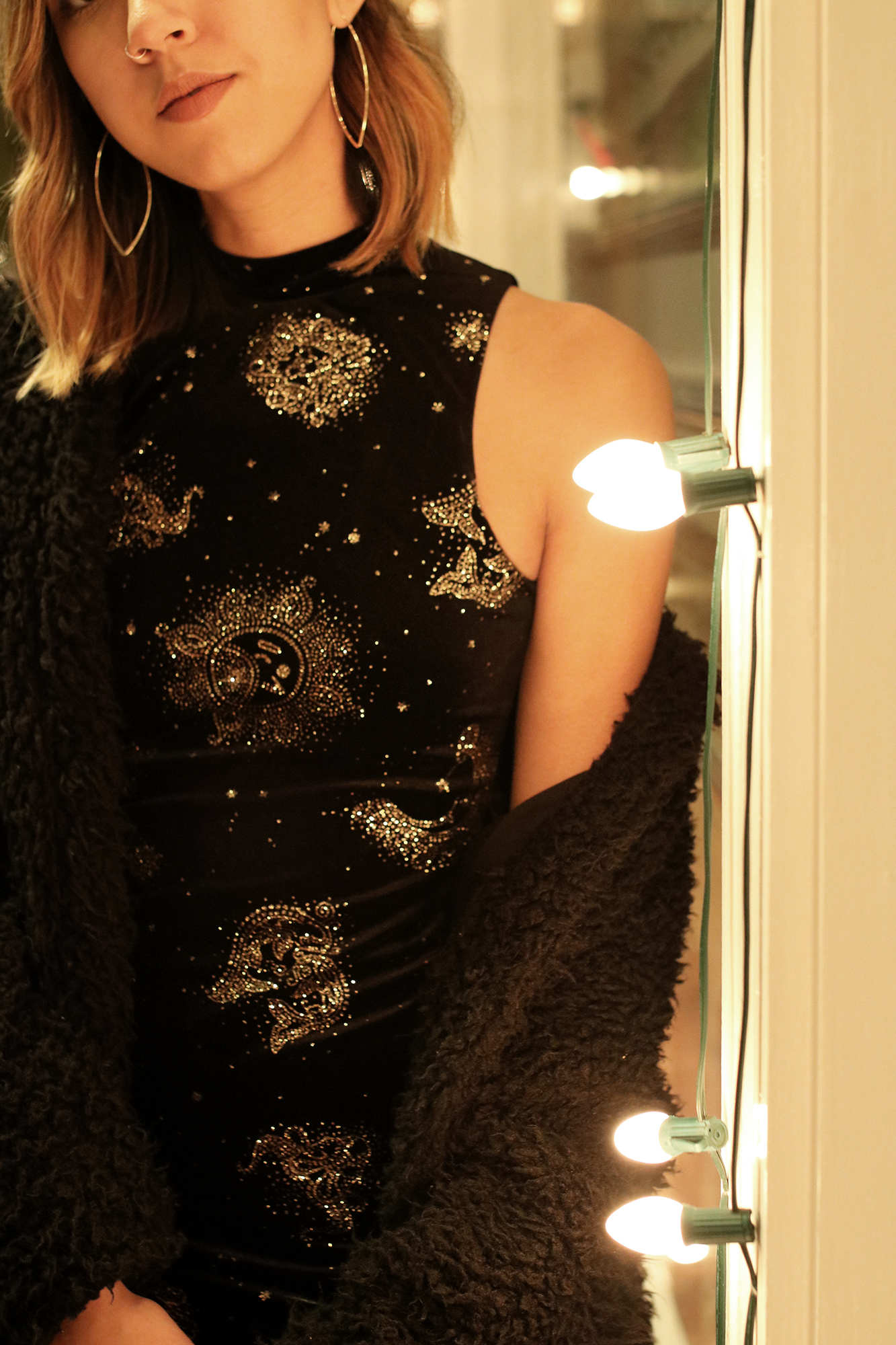 Ecote Zodiac Velvet Mock-Neck Midi Dress – Urban Outfitters | IVY Over the Knee Boots – EGO | Teddy Bear Coat – H&M | Geo Hoop Earrings – Urban Outfitters
Happy almost 2017! I've been reflecting a lot during the Holidays as well as stressing. A New Year always feels good, refreshing, and a great time to get a new start however the end of a year can seem overwhelming, stressful, and seems like time is running out to get everything you need finished. I've been blogging since 2012 and it's been a whirlwind. This year I saw real growth on all fronts of my blog plus, I achieved my major 2016 goals, attending Fashion Week and traveling more. With trips to San Francisco, New York, Florida, and Big Bear, it really was a year to look back on with pride.
Not sure if everyone goes through a major turning point in their blog but I definitely have been feeling the pressure lately if I'm to be candid (which I usually am). Nowadays what originally was my passion for just sharing my outfits has caused me a little more stress than it has joy. With so much competition out there I definitely fall into being jealous, depressed and uninspired by my work. All I have to say is that if you are experiencing this as well (whether with blogging or other aspects of your life) you aren't the only one! It really is a great time to take off and really re-evaluate what is important in life. I have to take time to step back and realize why I started this whole thing in the first place, and it really was to focus on what I love, which is getting dressed everyday! Instead of making it such a spectacle. I've connected with so many amazing and inspiring men and women I can't thank this platform enough for also giving me inspiration that motivates me to move forward. I'm really looking forward to seeing where blogging takes me in 2017 and if a new passion can be inspired from it.
Enough ranting though, back to this latest look, I partnered up with Urban Outfitters for a fun NYE inspired look. This zodiac dress actually fits me perfectly which is sometimes rare for me to feel good in a dress like this! I love the textures and details within this piece which make it so unbelievably New Years like! Since it's been so cold I threw on a teddy bear coat and some over the knee black boots to keep myself warm but what I love most about this look is the pairing with earrings. You guys, I finally took out my ear gauges and went back to wearing earrings. I have had my ears stretched since high school so it really was a great way to end 2016 by taking them out and embracing the cute earrings that now flood the market. Hope everyone has a happy and safe New Years and I can't wait to see what 2017 has in store for all of us!