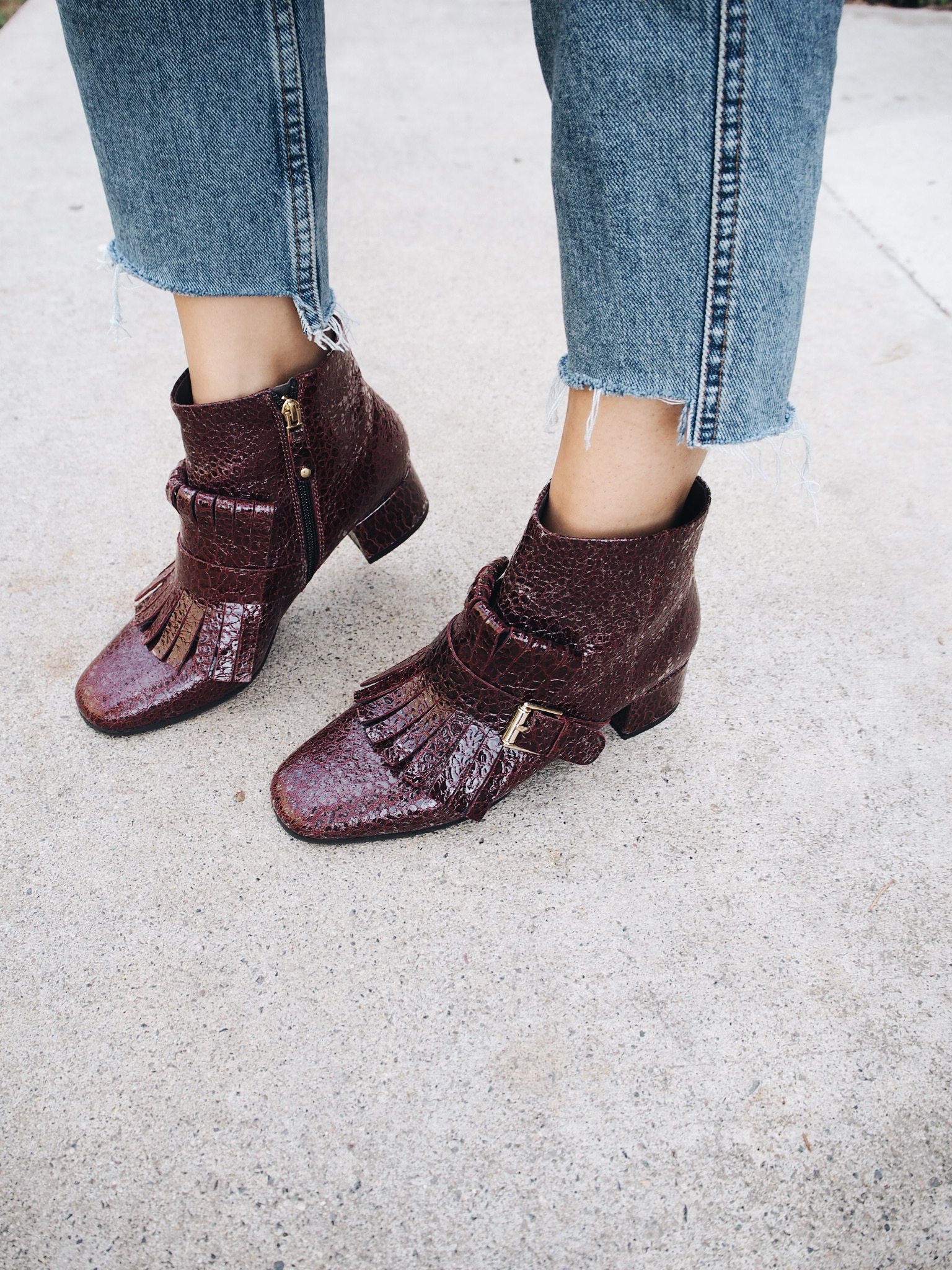 [show_shopthepost_widget id="2119700″]
As Fall and Winter are coming in hot (literally) here is my list of must have boots and this seasons trends. Enjoy!
Floral Ankle Boots – A huge trend is literally the Mary Poppins bag / your grandmas old curtains fabric made into adorable ankle boots. I know it might be hard to picture what kind of outfit you can pair with this but let's just envision an oversized white button up, fitted mom jeans and these boots. Enough said.
Glitter Boots – Let's talk about spicing up your shoe game with some glitter. Perfect for Holiday parties and for ringing in the New Year, these are pure statement shoes and are meant to be worn as such. Dress them up or down, that's the beauty of these babies!
Loafer Boot – We can't deny that loafers are definitely having a moment, but now combining them with a traditional ankle boot? Mind…blown. Personally I'm a HUGE fan of them as you can see from the ones I'm wearing above via Roberto Durville are a great addition to my wardrobe PLUS they are just so unique looking that they immediately spice up an outfit. I also just love how classic loafers look and make you feel so placing them on a boot is a MUST for fall.
Lace Up Boot – Last but definitely NOT least is the lace up pointed toe boot! I've definitely seen a few of my favorite bloggers like Danielle from We Wore What sporting some Dior babies but for those of us on a tighter budget it's nice to see some more reasonably priced pieces coming onto the market. My favorites are currently by Grey City and called the Waverly Boot. They give you a tiny lift in the heel but the pointed toe and lace up action really elongate the leg and make these the perfect boots to wear with dresses, pants or skirts of any length. The leather is SUPER soft and make them easy to break in. I definitely can't get enough of this style boot. It has an edge yet femininity to them and that's definitely my aesthetic 😉