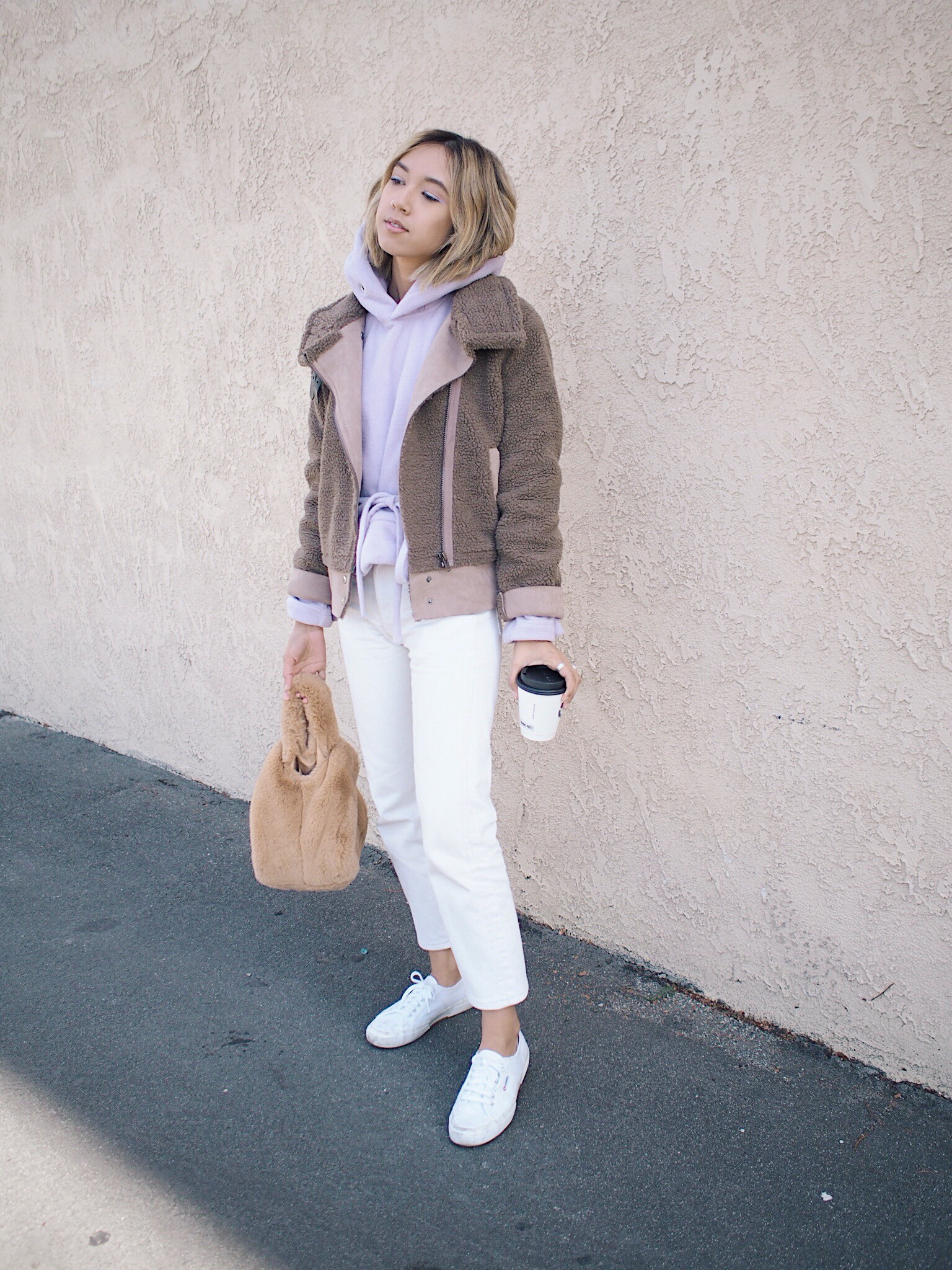 Closed Back SE Top in Lilac – House of Sunny | Eyelet Soul Hood in Lilac – House of Sunny |
Lavender Spring 2018 Color Trend has us all transitioning from millennial pink to another soft feminine tone that is somewhat unexpected. In the days of having super minimal colored pieces we are now stepping into a world of colored accent pieces and I am all about it. Sometimes color can be something we fear but it's always worth a shot to me. I've constantly heard this time and time again "oh that looks so great on you but that wouldn't work for me". Now granted, sometimes that is true, not everything fits everyone the same way nor do you feel the same kind of confidence that someone else might in that same piece. What I don't respect is when someone uses that as an excuse to not even bother trying! While a particular piece might not resonate with everyone there are ways to pull inspiration and find something that works for you. Having a flat chest for instance does limit what particular pieces look and feel good on myself so if I'm eyeing a particular style of something I have to find a version that works for me. Lavender this Season is bringing to light a gorgeous shade of color that makes an outfit stand out, not to mention bring a little light and happiness into the world. Or at least that's how I feel when I wear it!
I decided to pair this gorgeous fleece hoodie by House of Sunny with a pair of simple white Levis 501s that I recently got hemmed! My second look features another lavender blouse with denim and a plaid coat and yellow beret to add some additional texture, print, and color into the mix. As you know, I'm the color mixing queen now and I can't say I dislike what I'm becoming. I also received some really beautiful liners from Suva Beauty that were also in a lavender / lilac shade. I'm starting to mix in some of my makeup into my outfits so hopefully you guys like! It's a bit of a challenge as I actually wear about 90% of my outfits that you see on my blog throughout the whole day haha. The original premise of my blog was to feature my everyday style and that meant me wearing the things I wear…every day. I actually went to get those white Levi's hemmed and my seamstress said "oh wait, you actually wear the outfits you shoot?". Kind of funny that this is such a shocker to most but I genuinely like getting dressed up in the morning haha.
I've linked up some of my favorite lavender pieces up above so be sure to click through!