It's no secret that I love myself some good brunch, it's also known that places like Los Angeles, Long Beach, etc have some of the best spots both in food quality and aesthetics. We can't forget about my good ole hometown of Orange County though! Here is a compilation of some of my favorite brunch spots in Orange County for you to hit up before the end of the year or to start off the new year with a bang!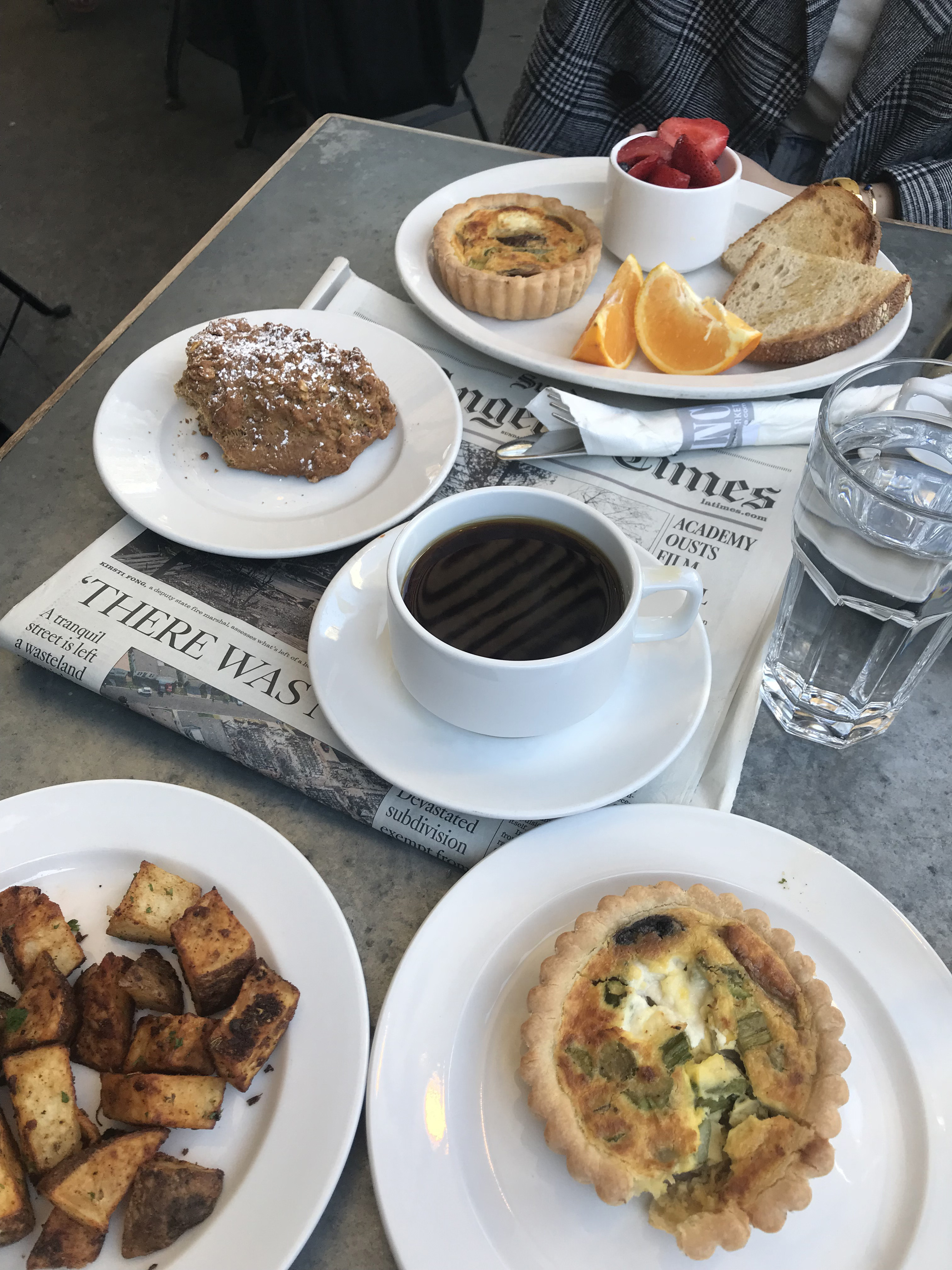 Zinc – Corona Del Mar
Zinc is always a go-to spot for me to hit on the weekends when I want to get close to the beach. This location is in Corona Del Mar, just off of Newport Beach on the way down towards Laguna Beach. They have a great range of Breakfast items and they are vegetarian friendly. There's also a really cute local flower stand only a short walking distance away so you can absolutely make a day of this brunch spot with some shopping and a quick trip down to the beach!

What I love:
– Market located inside
– Location, super close to the beach and is located smack dab in the middle of the town.
– Breakfasts you can build. Get an entree like one of their breakfast burritos or a quiche and top it off with some items from their market like a salad or pastry.
What I Don't Love:
– Parking lot is super small (however there is a lot of street parking in the neighborhoods, just watch out for those busy summer months!)
– Have to get there early some mornings due to limited seating.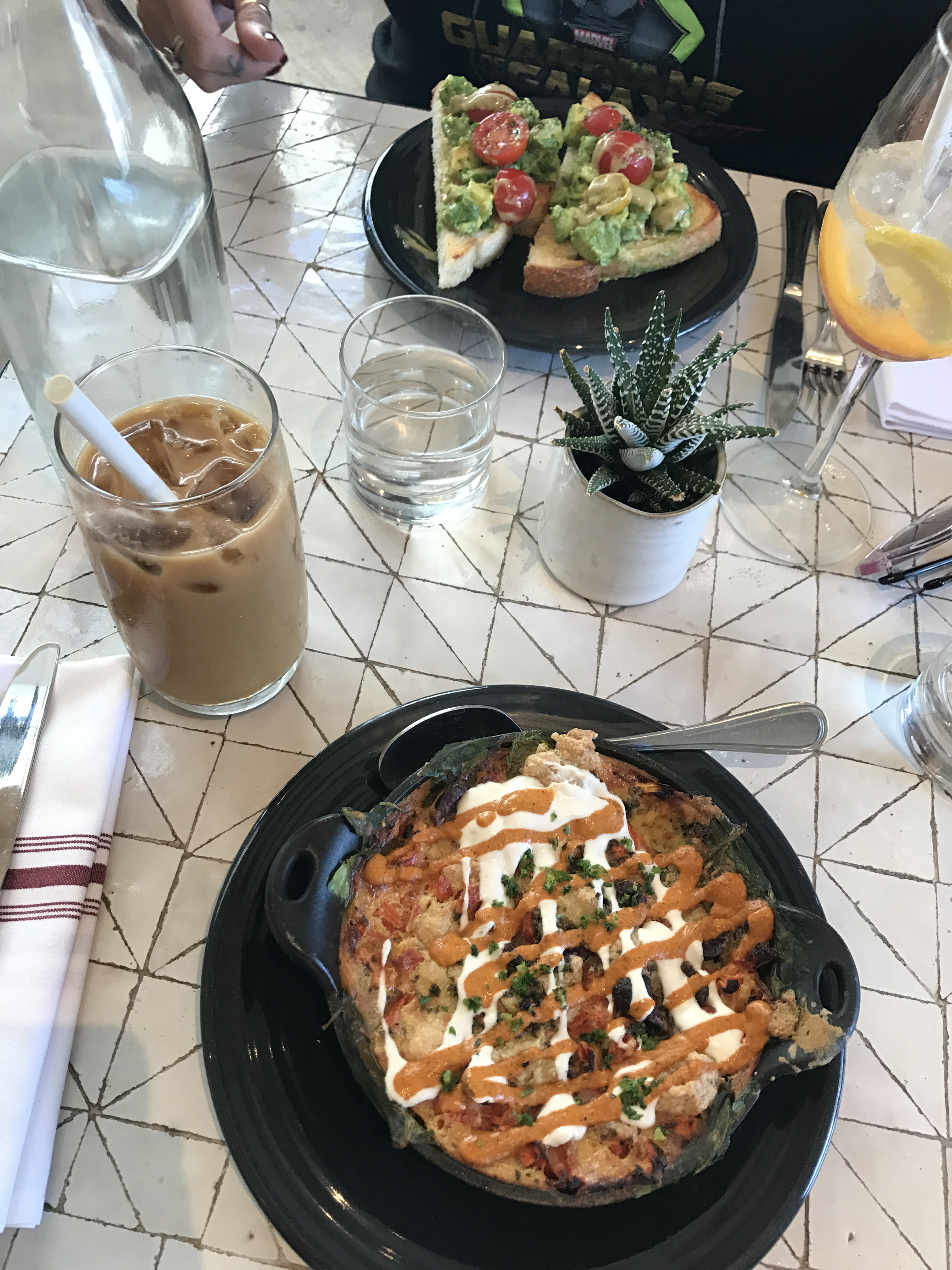 Cafe Gratitude – Newport Beach
Cafe Gratitude is a Los Angeles gem with locations all over the county but with it's introduction into Orange County you can really see how the OC is getting a little trendier. This spot is not only gorgeous aesthetically but it's a great pit stop if you are heading down to the beach or for some shopping at the infamous Fashion Island. A big plus is that this restaurant is completely plant based with only the freshest ingredients. Beware though because some menu items can change or be removed entirely based on the season! They also have a gorgeous bar so you are set for a fun girls brunch date full of delicious cocktails.
What I Love:
– Vegan and delicious
– Amazing interior and exterior aesthetic (Instagram worthy brunch spot)
– Staff is super friendly and attentive
– They also feature a "to-go" area in the back where you can grab a smoothie, coffee or a few other menu items.
What I Don't Love:
– Parking can be tedious on the weekends (again arrive earlier)
– Menu items can change (depending on what's available or if something runs out)
– A little on the pricier side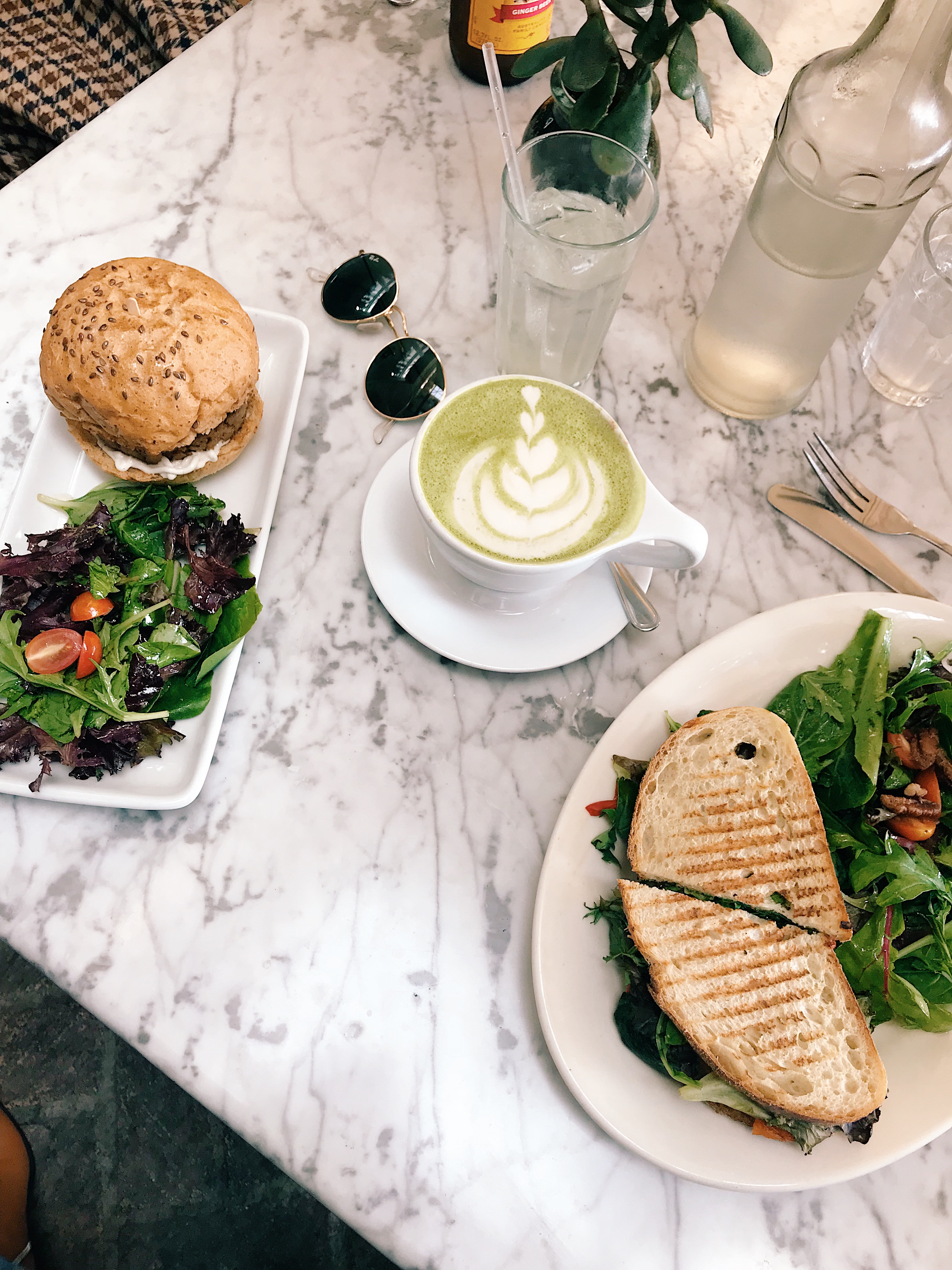 Freesoul Caffe – Tustin
Let's move a bit away from the beach and head further up north into Tustin, CA and to our next brunch spot, Freesoul Caffe. This is yet another amazing vegan brunch spot in Orange County that is the perfect spot to take a quick snap of your food with their marble tables and pretty food presentation. This is another spot that is great to meet at especially for myself who has a lot of friends that come from a little further inland while I'm closer to the beach. Nothing like being courteous of long distance friends.
What I Love:
– Vegan and delicious
– Coffee is very good (plus they have matcha!)
– Perfect marble tables for a good Instagram worthy shot of your food.
What I Don't Love:
– Can't get coffee to go
– Staff is a little "rushed"
– Not open on certain days of the week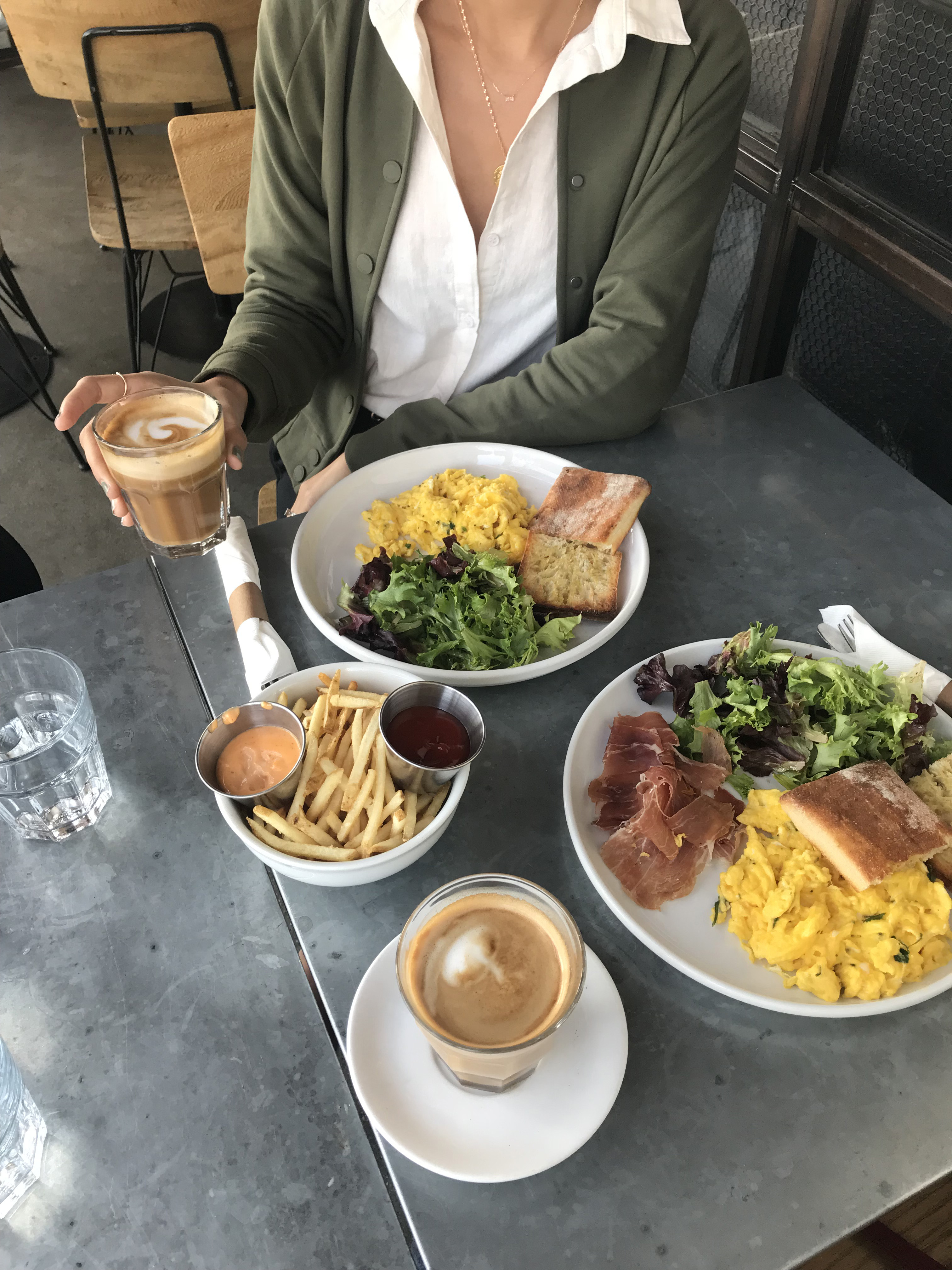 Zinque – Newport Beach
Located at the new Lido Marina Village, Zinque is yet another Los Angeles favorite that has migrated down to Orange County. Zinque really caters to the brunch crowd and I'm very happy about that! They have an entirely separate menu for Brunch as well as their own coffee bar and barista. My favorite item to get is the soft scramble with a side of fries.
What I Love:
– Amazing view (Newport Harbor) and interior
– Usually not super crowded
– Food and coffee is great
– Really great shopping in the area
– There always seem to be dogs out on the patio so if you are a dog lover (like me) you'll love
What I Don't Love:
– Parking is either through their parking structure or meters (can get pricey)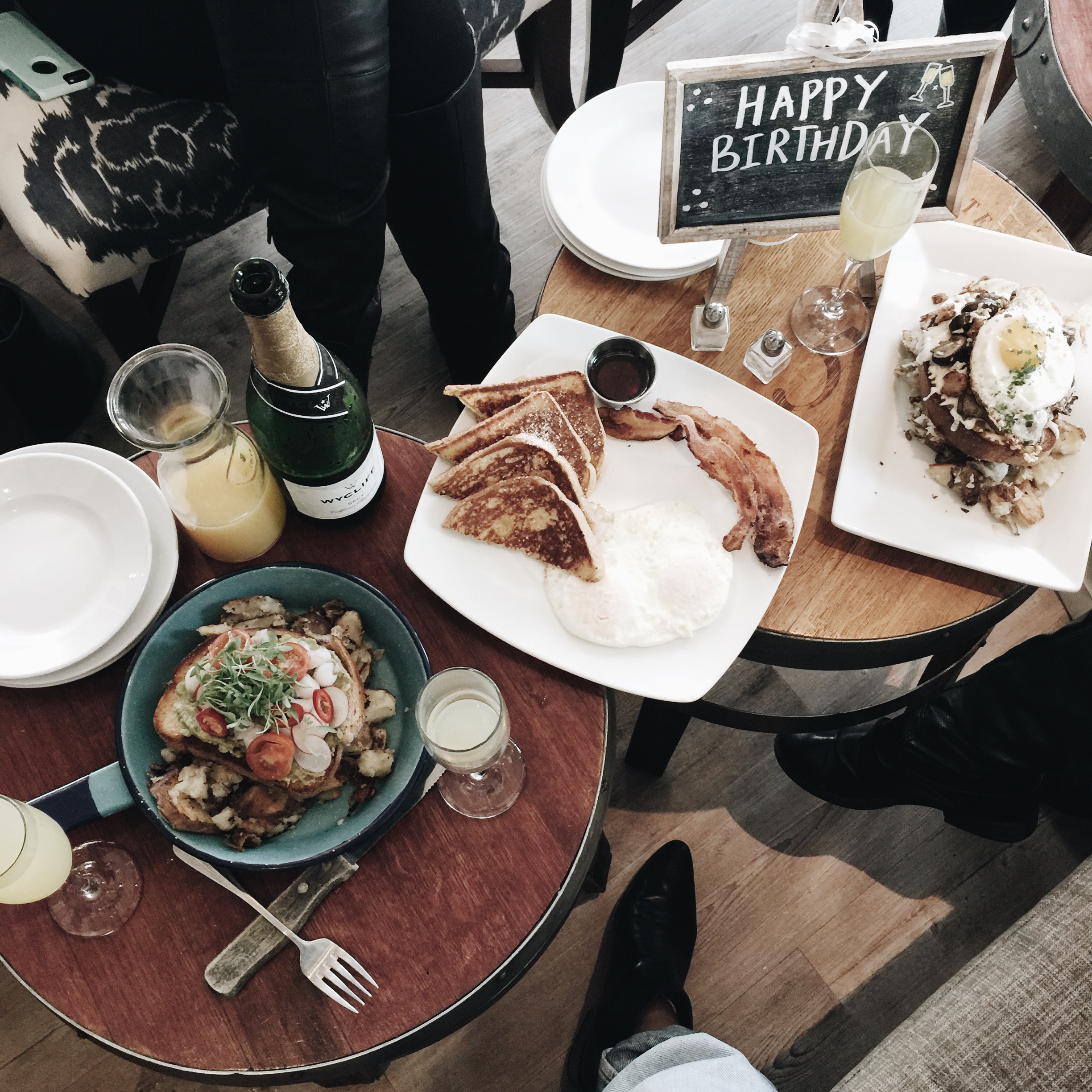 Sealegs Wine Bar – Huntington Beach
Sealegs Wine Bar in Huntington Beach was definitely a shock to me when I first arrived I didn't really think "brunch spot" but oh boy was I wrong. They have an amazing array of delicious brunch items that are perfect for sharing. They also have bottomless mimosas so if you are looking for a good time have no fear.
What I Love:
– Amazing array of food that is sharable
– Close to the beach for after brunch activities
What I Don't Love:
– Aesthetics aren't super Instagram friendly
– It does get busy and is prone to large parties so be careful!