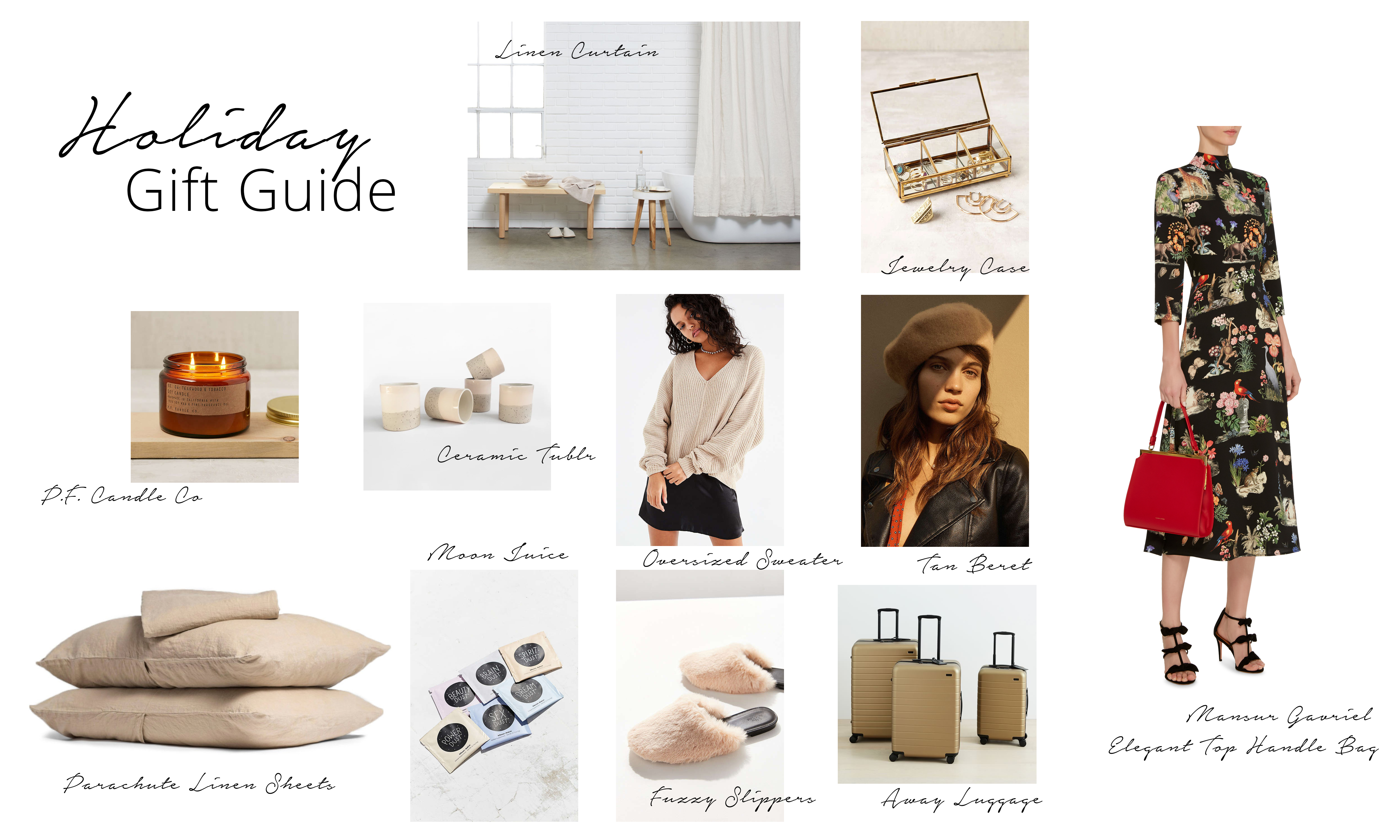 It's that time of the year again! We are talking about the Holiday's and of course, Black Friday promotions! This is a big time of the year for myself not just for shopping but also at the office where Black Friday is of course a HUGE deal. What I find the most challenging as the years progress is what to get for gifts. As I've grown older and what I've noticed from friends and family is that when purchasing a gift it's truly the thought that goes behind it as well as ensuring the gift you give is going to be useful for them! There's nothing worse than getting a bunch of little things you didn't really need and then have to find a place for in your home. It's all about minimalism! Here are a few of my ideas for easy gifts to give someone in your life. Now these aren't broken down by price or anything and a few of these items are definitely wish list items for me (ie. the Mansur Gavriel bag).
Candles & Moon Juice – Urban Outfitters BOGO EVERYTHING Promo for Black Friday
I love gifting candles to my friends and family, while it might seem like an easy gift, getting a nice subtle smelling candle will light up anyones holiday (literally). I also have been really into Moon Juice supplements lately so this sampler pack is great for the person in your life who really enjoys all things health related.
Parachute Home – 20% off sitewide use code: SALE17 (November 24 – 27th)
I am really into getting pieces for my home for any kind of gifting holiday so something on my wish list and something nice to give someone in your life is a good set of linen sheets or in my case I'd also love a linen shower curtain!
Oversized Sweater & Berets – Urban Outfitters BOGO EVERYTHING Promo for Black Friday
A great gift for someone you know who is into fashion but might be a smidgen picky is a cute oversized sweater (also makes it easy if you don't know what size they are!) I also have been seeing berets EVERYWHERE so while this might be a little harder to gift to some, it's definitely a great inexpensive but meaningful gift to give to a close friend!
Home Accessories – Urban Outfitters BOGO EVERYTHING Promo for Black Friday
For those hard to shop for friends and family members this holiday I highly suggest getting them something that can be utilized around their home! One inexpensive gift is fuzzy slippers, this is always a great gift that I especially love giving to my aunt who really appreciates having warm slippers since her home is covered with tile. I also have been obsessed with little gold and glass vanity pieces. It's also great to fill with cute jewelry as an added bonus!
Quality Handbag – while this might not be the gift you can give everyone, it's definitely something to add to your own shopping list! Something I'd definitely love for Christmas would be a great timeless designer handbag like this Top Handle Bag by Mansur Gavriel.
Hope this gave you guys some ideas about where to shop this holiday season! Click the images below to shop directly