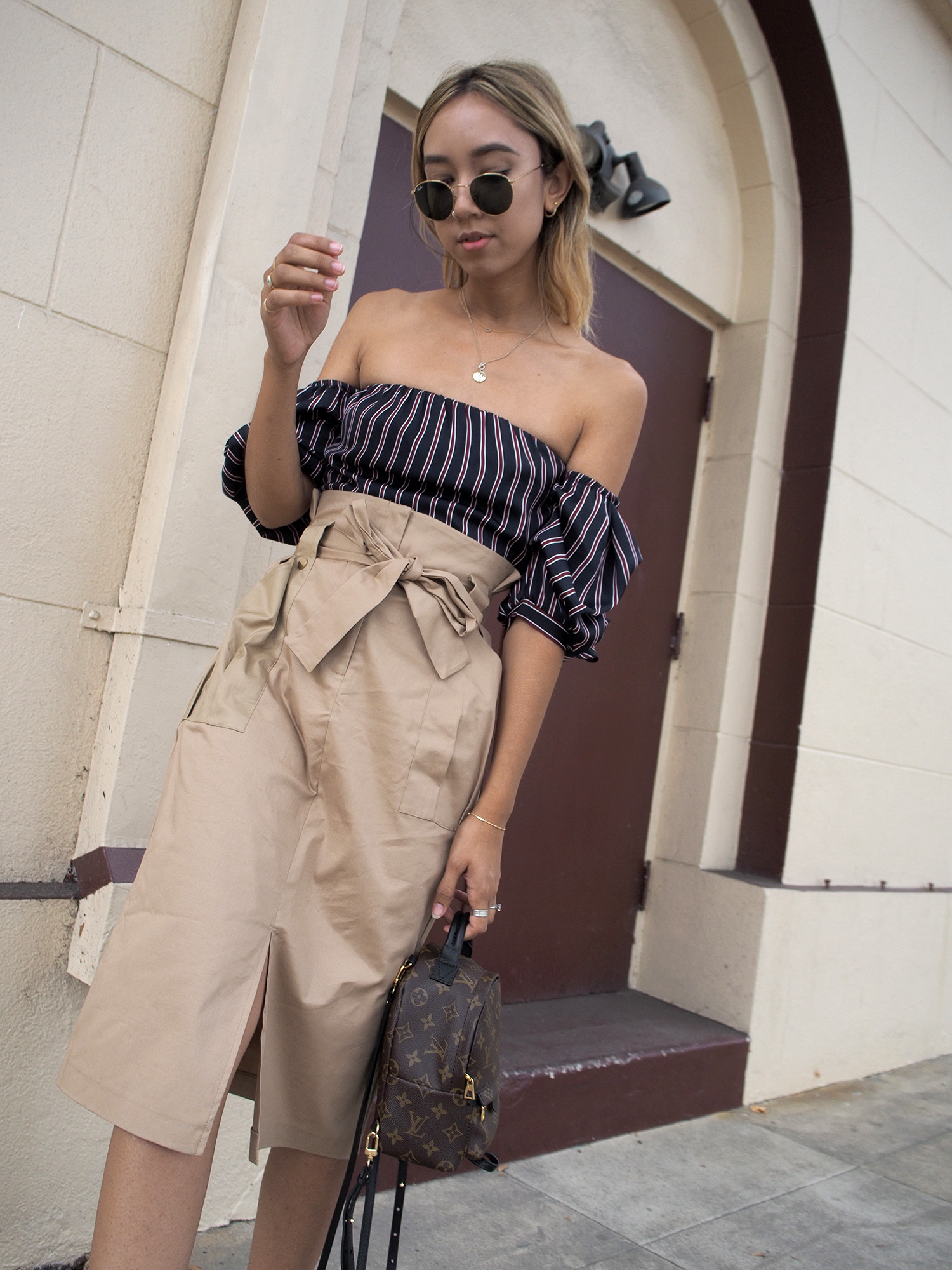 Navy Stripe Puff Sleeve Bardot Crop Top – River Island | Light Brown Paper Bag Waist Skirt – River Island | Bettina Mules – Charlotte Stone | Palm Springs Mini Backpack – Louis Vuitton
Sometimes you get the perfect combination of feminine with a masculine twist. I think this paper bag waist skirt from River Island fits the bill of adding a classic color to a more modern shape. I decided to offset the more masculine elements of the skirt with a really cool off shoulder puffy sleeve striped blouse (tucked in ever so slightly). I really love how the skirt hits so high on the waist so you can easily tuck in a blouse and create a dress like silhouette. I know this might be just my opinion but I really feel like this skirt is a reincarnation of a trench coat but for your bottom! Fall color schemes are in full effect so bringing more camel, navy blues and saffron orange tones was a must. I have to admit that when I tried on this look with these Charlotte Stone Bettina mules it was pretty dark in my house so I couldn't tell how much this matched but sometimes you have to just go for it right? Also while I like to be overly matching, I like to un-match just as much haha.
I should also bring attention to the fact that I just purchased my Palm Springs Mini Backpack by Louis Vuitton. I've never been overly into designer pieces (although I've always wanted one) and even when I took my trip to Paris and told myself I would buy myself a Chanel I still couldn't go through with it. When you have a lot of goals like buying a home and saving for your future it's hard to just put some of that money into something material. Lately I've been working my butt off with blogging and expanding my business that I felt that I deserved this one. Plus when you walk into the Palm Springs Louis Vuitton and the saleswoman tells you that it's the last one and that they just got it in this morning…you kind of have to take it as a sign. Investing in designer pieces is something I want to start expanding on and creating a really curated closet that has great wardrobe staples that will be timeless.