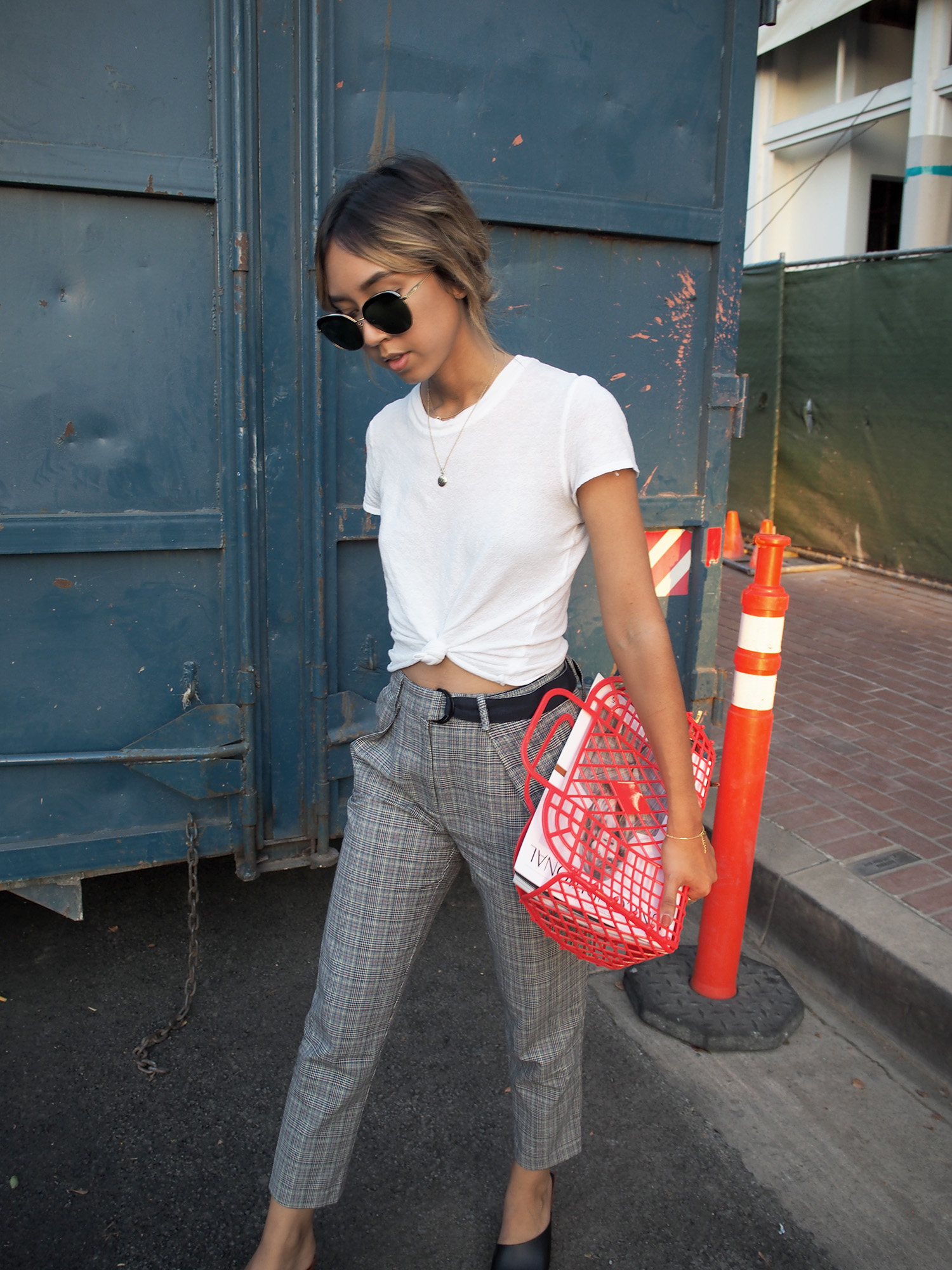 Plaid Trousers – Current Air | Baby Tee – Lacausa | Blackout I'm Tired Denim Jacket – Big Bud | Roll Black Mules – Intentionally Blank | Retro Red Jelly Basket Bag – Sun Jellies | Birdie Sunglasses – Sonix |
It's been such a wild past week so I apologize in advance for the lag on posting! I had the pleasure of speaking on some panels at WWD Magic in Vegas last week and it's taken me some time to get recuperated. Being surrounded by some amazing bloggers was such an eye opening experience seeing how this really is a career nowadays! I was gifted these amazing plaid trousers from Current Air at the show and these babies have the perfect tapered bottom and fun belt detailing that looked perfect with something as simple as a tied t-shirt. I also have been living in heeled sandals versus flats or sneakers, it really just adds something extra to these trousers. Luckily the weather gave in a bit and I was able to wear this jacket I got back at Comic Con over a month ago from Big Bud. It is literally the motto of my week not to mention it fits perfectly, has a good amount of stretch and is extremely comfortable. I'm excited fro plaid to become a bigger part of my fall wardrobe but I'm still trying to hang on to my sandal game before the boots start marching in.
We also need to take a moment to appreciate that jelly bags are making a comeback. My sister in law actually purchased one of these from a retro clothing store maybe a year or two ago and I thought it was so cute, low and behold I began to see them in a few online shops and had to take the plunge. Don't you just love something as simple as the concept of this bag? It really is the little things in life sometimes.