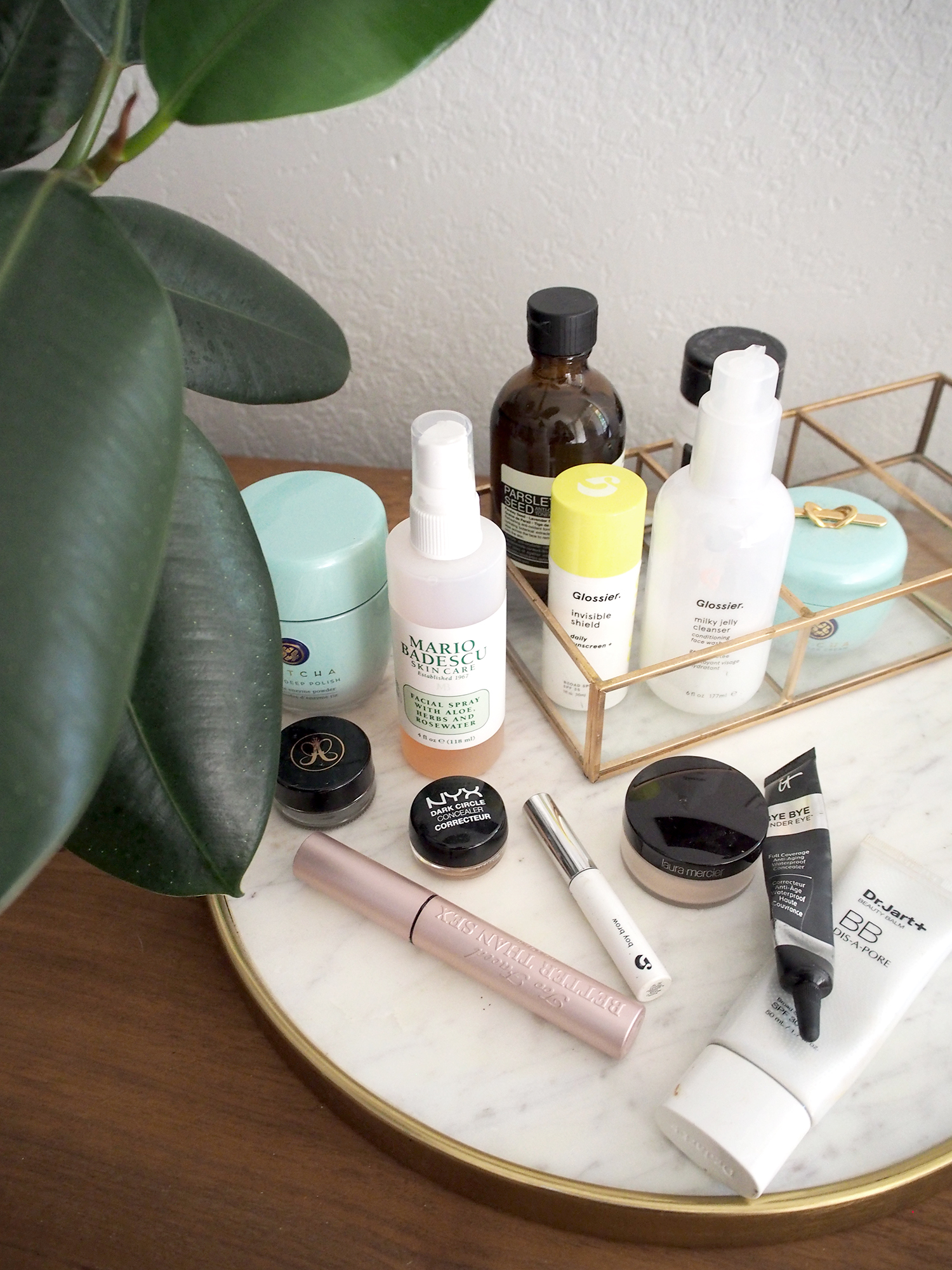 [show_shopthepost_widget id="2765948″]
I've never officially shared my skincare and makeup regime that I use on the daily so I decided there's no time like the present! I'm no makeup expert by any means but I've tried many a product and I've learned what I love and what works for me! I don't necessarily have sensitive skin BUT I really like to baby my skin (just in case). My skin type would be qualified as normal / oily where the oil usually sits heavily in my t-zone although it's not always limited to those areas. Here's my daily regime:
Morning Skincare:
In the morning I always make sure to wash my face. I never used to do this but only in the past few years did I really see the result of how my skin acted during the day when I had a clean palette. I love using the jelly cleanser because my face doesn't feel super stripped however it helps maintain my oil production throughout the day. I also realized that by cleansing my face with something lightweight doesn't irritate my face (my skin can get red when I use a more intense cleanser). I'm super adamant about using sunscreen as well and the Glossier Invisible Shield has the perfect consistency that doesn't break me out or feel heavy on my face during the day.
– Face wash with Glossier Milk Jelly Cleanser
– Facial Spray with aloe, herbs and rose water by Mario Badescu
– Protect my skin with Glossier Invisible Shield.
Evening Skincare:
My evening skincare routine is a little more immersive. I utilize Tatcha's enzyme rice powder to help control my oil production as well as give me a slight buff without being too harsh. I also love using my toner from AESOP that is calming and soothing. I was also never a moisturizer before a few years ago and I"m so glad I transitioned. Having oily skin I always wanted to remove moisture not add more but there is a difference between oil and moisture for your skin and by moisturizing I actually can help reduce the amount of oil I'm producing since my skin doesn't feel stripped of it. The water creme by Tatcha may be expensive but it's SO soothing feeling and makes my skin feel so smooth. I utilize the Rose Water spray by Mario Badescu whenever I feel like it (usually morning and night) as it adds a nice little lightweight spritz to my clean skin or freshly applied makeup. Also it's super cheap and available at stores like Ulta.
– Evening face wash with Tatcha Deep Polish Rice Enzyme Powder
– Toning with AESOP Parsley Seed Anti-Oxidant Skincare Toner
– Moisturizing with Tatchas Water Creme
– Facial Spray with aloe, herbs and rose water by Mario Badescu
Makeup Details:
Ok as I mentioned before, I'm no makeup artist and I actually have never been big on wearing makeup. For me, my daily makeup regime is super simple, starting off with some under eye corrector (in orange to counter act the dark blues of my under eye), covering my face with my favorite lightweight BB Cream by Dr Jart, then topping off my under eyes again with Bye Bye Under Eye by IT Cosmetics. After my main face makeup is complete I fill in my brows with Brow Wiz & Clear Brow Gel and add mascara on my lashes (after curling of course). On occasion I'll throw on some contour and more likely than not add in some highlight with one of my favorites being Laura Mercier's mineral illuminating powder.
– Under Eye Color Corrector by NYX
– Light coverage BB Cream Dis-a-Pore for my daily wear by Dr Jart
– Dark Circle Concealer Bye Bye Under Eye by IT Cosmetics
– Brow filling using Dip Brow by Anastasia Beverly Hills
– Topped off brows with Clear Boy Brow by Glossier.
– Favorite length and volume intensifying mascara, Better Than Sex by Too Faced.
– Final look is topped off with some natural highlight by Laura Mercier.