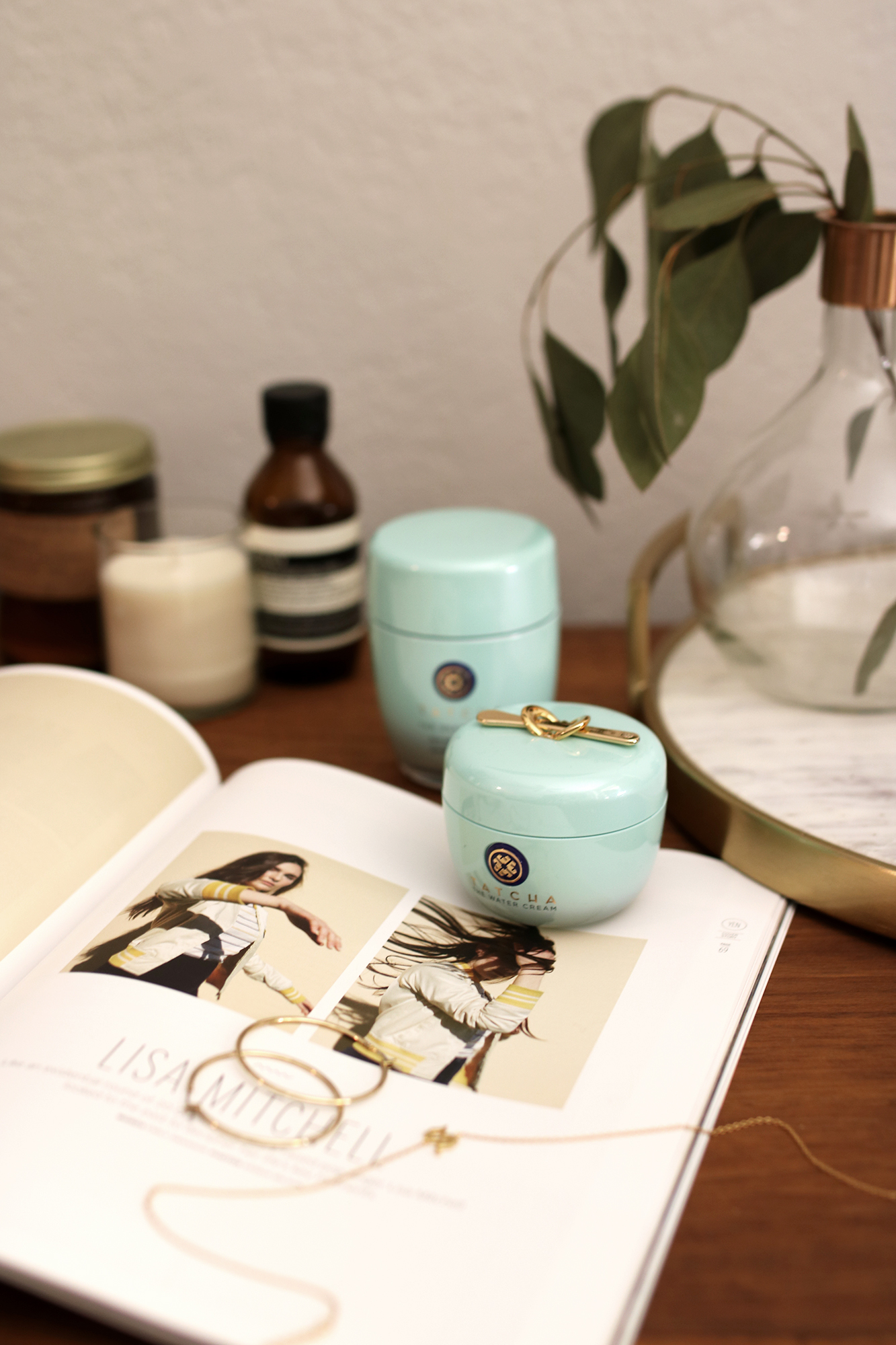 Deep Polish Rice Enzyme Powder – Tatcha | Water Creme – Tatcha
This post is in collaboration with Tatcha & Stylinity. Shop these pieces directly by clicking here https://go2b.uy/@UnconsciousStyle/3 . Plus checkout these coupon offers from Tatcha here!
I'm a big fan of beauty and skincare products as of late and especially within the past few years. I've learned to really listen to what my skin wants and help it along the way as the years pass. We can't always have our 16 year old elasticity and brightness! I had heard of Tatcha previously and was excited to give them a try. The enzyme polish was a bit weird to say the least BUT it doesn't come without some insane results being that your skin feels fresh and full of life. The face wash starts off as a powder and as you add water creates a fluffy foam. The water creme is just as amazing and as I've learned over the years, just because you have oily skin doesn't mean you shouldn't add moisture onto your skin! I think one of the reasons I've become more oily over the years was my lack of moisturizing. It's true what they say, that you should always give your skin what it needs which in my case was more moisture which allows my body to produce less oils in turn. If you're looking to give these products a try, read below for more details on if they might be right for you!

The Water Cream
What it is:
This oil-free, anti-aging water cream releases a burst of skin-improving Japanese nutrients, powerful botanicals and optimal hydration for pure, poreless skin.
Why it's different:
Provides nutrient-rich, balanced hydration: Unique water-burst cream breaks upon application to deeply deliver treatment benefits, hydrating without leaving skin sticky or greasy
Clarifies and refines skin with pure, powerful Japanese botanicals: Japanese Wild Rose visibly tightens pores and smoothes skin texture
Japanese Leopard Lily helps control excess oil and clarify skin by encouraging natural skin turnover
Delivers anti-aging Japanese superfoods: Hadasei-3™, an anti-aging trinity of green tea, rice & algae, restores healthy-looking, youthful radiance
Imparts a subtle, shine-free glow with a touch of 23-karat gold
Who it's for:
Ideal for normal to oily skin. Oil-free. Non-comedogenic. Non-irritating. Non-sensitizing.
The Deep Polish
What it is:
Water-activated exfoliant of nourishing Rice Bran and pore-perfecting Japanese Wild Rose transforms to a creamy foam, polishing skin to a jewel-like luster.
Why it's different:
Non-abrasive exfoliation: Rice and Papaya Enzymes delivered in a creamy, rich foam soften, exfoliate and gently release debris, promoting healthy skin turnover to instantly reveal baby-soft skin with a natural glow
Pore-tightening: Japanese Wild Rose diminishes the look of pores and refines skin texture
Skin-clarifying: Japanese Leopard Lily clarifies skin and helps prevent breakouts
Anti-aging: Hadasei-3™, a trinity of anti-aging Japanese superfoods, restores healthy-looking, youthful radiance
Who it's for:
Ideal for normal to oily skin. Helps balance the complexion and calm acne. Non-irritating. Non-sensitizing. Dermatologist tested.