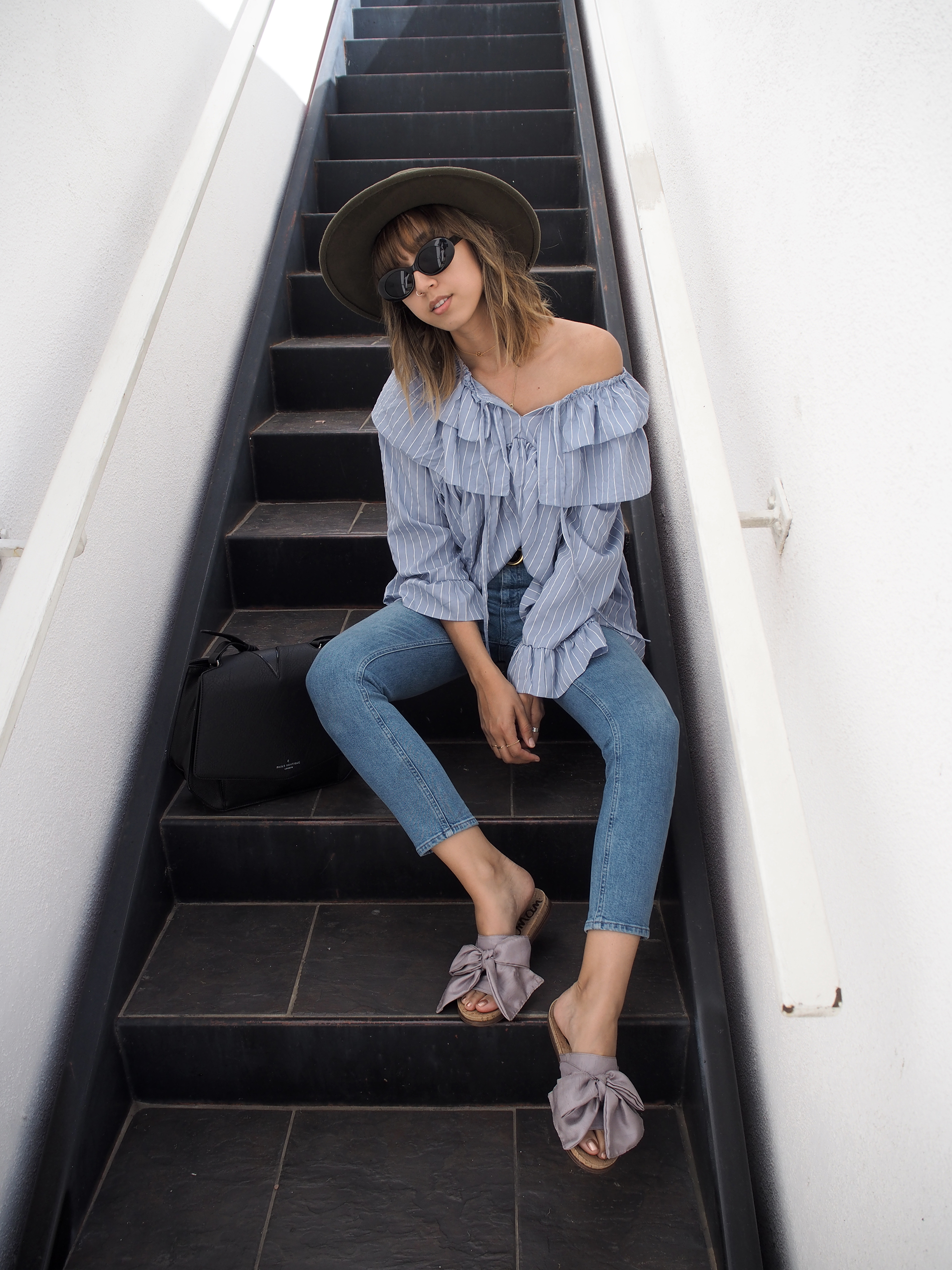 Henna Bow Slide Sandal – Sam Edelman | Lovely Addiction Dolly Top – ChicWish | Farleigh Slim Mom Jean – ASOS | Kels Oval Sunglasses – Giant Vintage
This post is in collaboration with Sam Edelman & Stylinity. Shop my look directly by visiting here https://go2b.uy/@UnconsciousStyle/1 and be sure to checkout Stylinity's coupon codes!
Once upon a time there was a statement blouse and a statement shoe and they were the perfect combination for Spring, THE END! Or something like that. I'm really leaning towards the femme of femme blouses for Spring and adding in a little edge or fun to the look! In this instance I received these gorgeous Henna Bow Sandals by Sam Edelman and Stylinity that have a little satin sheen and are VERY comfortable. They add a little spice to a simple denim jean or short paired with a tee or flowy blouse. I have to say specifically pairing them with an ankle grazing jean is a choice I'm happy to make, it helps give off the appearance of longer legs especially since this sandal is flat! Here are a few of my other selects from Sam Edelman's latest collection that I'm eyeing to pair with my Spring ankle grazing denim!
Tai Ankle Wrap Tie Sandal – Sam Edelman
Inara Scalloped Block Heel Sandal – Sam Edelman
Stanley Block Heel Mule Striped – Sam Edelman
Looking to grab a few pairs? Checkout these coupons here! PLUS receive 15% off until May 14th with code: BLOGSAM15OFF