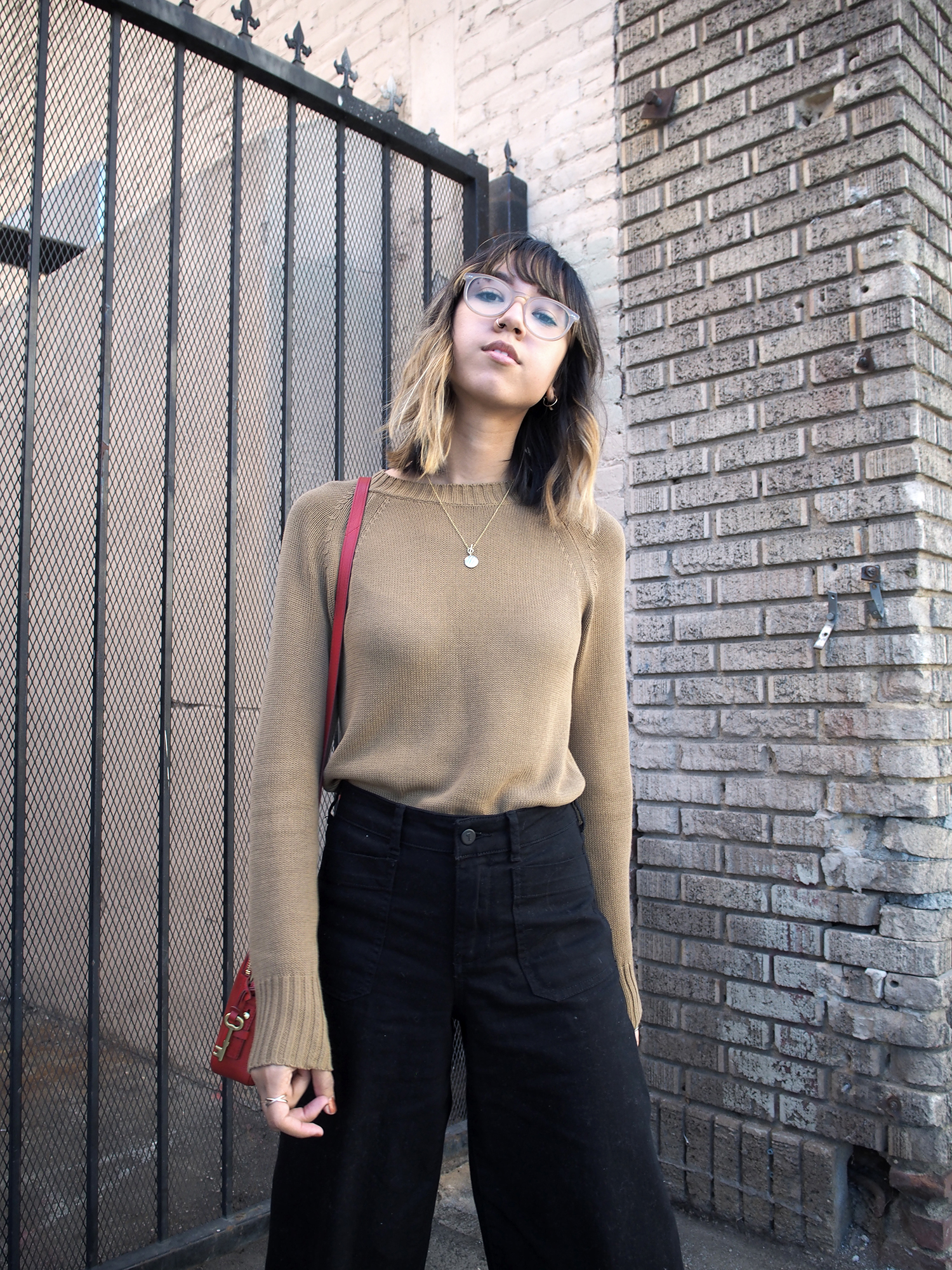 Open Knit Crew – Everlane | Pilcro Superscript Ultra High Rise Wide-Leg Crops – Anthropologie | Simone Wide Fit Mid Heel – ASOS | Piper Toaster Crossbody Red – Fossil
Ok guys, it's been awhile since I've really just posted some straight forward outfit shots of me on the daily. When you get to a certain point in blogging it's so exciting to be collaborating with brands and beginning to make your hobby feel like it could be turned into a real business! On the flip side, it also means adding on more responsibility to what was once something you just enjoyed doing. By that I mean, having deadlines to post outfit shots, being limited on what you can and can't include alongside your looks, etc. With companies slowing down at the beginning of the year and getting together their 2017 game plans its actually nice to have a bit of a break from collaborations. Don't get me wrong, I absolutely love connecting with brands and brining their pieces to life, but sometimes it's nice to be able to go back into your closet and pick out looks that you just FEEL like wearing that day. It really holds true to my blog name "Unconscious Style" that really stemmed from my ability to unconsciously pick an outfit I want to wear that day based solely on how I was feeling.
I've recently been obsessed with these jeans I picked up from Anthropologie. I usually go through phases with where I shop and Anthropologie hasn't been on my list (for clothing at least) since High School when I only DREAMED of being able to afford their pieces. Right now though I'm finding some amazing cuts that are fitting in with some of my new style choices. I also have been continuously wearing my Everlane pieces. I have to say these are pieces you should definitely invest in, they are a go-to for any closet space and easy to pair with what you already have. I think by them creating amazing structured pieces at an affordable and transparent price you really get quality that will last through our fast fashion cycles. I also almost forgot about these amazing square toe mid heels I picked up from ASOS. They hit perfectly with the crop on these pants and give that 70s inspired flair to the look.